[ad_1]
Nothing's more comforting than sitting down to a bowl of warm protein-rich goulash on a cool day. Slurp your way swole with this recipe!
Growing up, all of us kids frequently requested my dad's beef goulash for dinner. He didn't mind because it was one of his favorites, too. While I have no idea how "macro-friendly" his version was, this taste-tested and approved remake is high in protein, relatively low in carbs and fats, and bursting with authentic flavor.
I like to serve mine over rotini, but feel free to swap the pasta out for your carb of choice. You can also add carrots, parsnips, or potatoes to the goulash. I'll leave that up to you!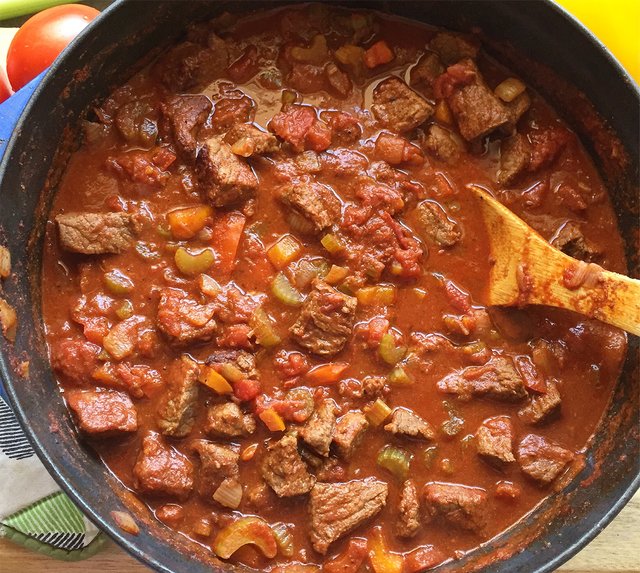 Ingredients
Olive oil: 1 tbsp.
Onion, chopped: 1 cup
Sweet paprika: 1/4 cup (Hungarian if you can find it)
Beef bottom round or tri-tip (lean only), cut into 1'' pieces: 2 lb.
Garlic cloves, minced: 4
Bell pepper, chopped: 1
Canned organic diced tomatoes: 28 oz.
Celery, chopped: 1/2 cup
Beef broth: 1 cup
Worcestershire sauce: 2 tbsp.
Salt: 1 1/2 tsp.
Black pepper: 1/2 tsp.
Bay leaves: 2
Caraway seed, crushed: 1 tsp. (optional)
Directions
In a Dutch oven or large saucepot, cook onions with olive oil over medium-high heat, stirring frequently, until lightly browned.
Remove from heat, and stir in paprika (you don't want the paprika to burn and turn bitter).
Add diced beef and minced garlic and return to heat. Cook for 15-30 minutes until tender and no longer pink (tougher cuts require more time).
Add bell pepper, diced tomatoes, celery, and remaining ingredients. (This is also where you would add other diced vegetables like carrots, parsnips, or potatoes).
Bring to a boil, cover, reduce the heat to medium, and simmer for 30-40 minutes.
For meal prep, divide the batch into six portions. Enjoy!
Nutrition Facts
Serving size: 1 bowl                                                        
Recipe yields: 6 servings
Calories: 310
Fat: 14.7 g
Carbs: 12 g
Protein: 35 g
[ad_2]