[ad_1]
New research reveals just how much protein you need after a workout to optimize muscle building.
The conundrum surrounding post-workout nutrition isn't so much about what to eat as much as how much to eat. You and I both know protein needs to be a priority following a workout, but the jury is still out on how much protein is needed to maximize muscle growth and repair.
Fortunately, new research has shed some light on the matter. A study published in Physiology Reports sought to determine the impact of two different post-workout protein portions following exercise.[1] Furthermore, it also sought to determine how varying amounts of protein post-workout influenced individuals with significantly different amounts of lean body mass.
Subjects were split into four groups as follows:
Low Lean Body Mass (LLBM), 20 grams of whey protein
Low Lean Body Mass (LLBM), 40 grams of whey protein
High Lean Body Mass (HLBM), 20 grams of whey protein
High Lean Body Mass (HLBM), 40 grams of whey protein
Each group received their protein following two total-body workouts.
Researchers observed a 20 percent greater uptick in post-training muscle-protein synthesis in subjects consuming 40 grams of whey protein compared to those consuming 20 grams. What didn't make much difference was whether the subjects had low or high lean body mass.
As long as they had the higher amount of protein, they tended to experience a greater degree of muscle- protein synthesis.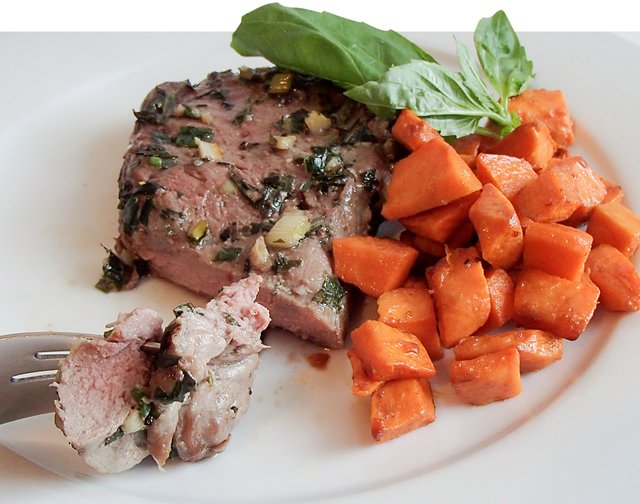 How to Eat 40 Grams of Protein Post-Workout
Although this study was small and the first of its kind, the results suggest that striving to consume 40 grams of protein post-workout is the way to go if you want to add muscle, regardless of your size. The authors speculate that this is especially true if you follow a total-body training style.
That's because more muscle breakdown is occurring throughout the body compared to a single-body-part split. "Speculate" is the operative word, though. Single-body-part splits were not included in this study.
Rather than having to face two monstrous chicken breasts after your workout, consider one of these seven muscle-building meal combinations to meet your post-workout protein quota!
3/4 cup plain Greek yogurt + 1 scoop whey protein + 1/2 cup blueberries = 43 g protein
6 oz. salmon fillet + 1 cup quinoa + 1 cup broccoli = 45 g protein
4-oz. can albacore tuna + 1/2 cup canned navy beans + 2 cups baby spinach + 1 cup cherry tomatoes = 43 g protein
1 cup cottage cheese + 4 tbsp hemp seeds + 1 cup chopped pineapple = 42 g protein
6 oz. chicken breast + 1 cup brown rice + 2 cups baby kale = 42 g protein
6 oz. sirloin steak + 1 medium sweet potato + 2 tbsp pesto = 40 g protein
1 cup low-fat milk + 1/2 cup low-fat plain yogurt + 1 scoop whey protein powder + 1 tbsp almond butter + 1 frozen banana = 44 g protein
References
Macnaughton, L. S., Wardle, S. L., Witard, O. C., McGlory, C., Hamilton, D. L., Jeromson, S., … & Tipton, K. D. (2016). The response of muscle protein synthesis following whole‐body resistance exercise is greater following 40 g than 20 g of ingested whey protein. Physiological Reports, 4(15), e12893.
[ad_2]