[ad_1]
Embrace the spirt of Halloween and get your protein fix by whipping up and devouring these creepy critters.
Hi. My name is Anna, and I'm an arachnophobe. Spiders freak me out; big or small, hairy or smooth, brown or black, they frighten the pants off me. That's what inspired me to whip up this eight-legged treat. After all, what is Halloween for if not paying homage to the things we fear most?
I have to admit, making these protein spiders and devouring them was a bit therapeutic. Instead of reaching for a newspaper to shoo the spider of the house, I found myself reaching for a fork to dig in to this delectable dessert. The best part of this recipe is that the spiders are vegan, so they're perfectly suited for those of you who prefer to co-exist peacefully with animals—arachnids included!
While the spider's body houses all of the chocolaty goodness, the legs are key to turning these balls into full-fledged creepy critters. You can make the spider legs however you like, though the easiest way to make them look properly spidery is to use plastic spider legs. If you want these spooky treats to be 100 percent edible, use licorice ropes covered in dark chocolate. Ready to create some killer Halloween treats? Let's get to it.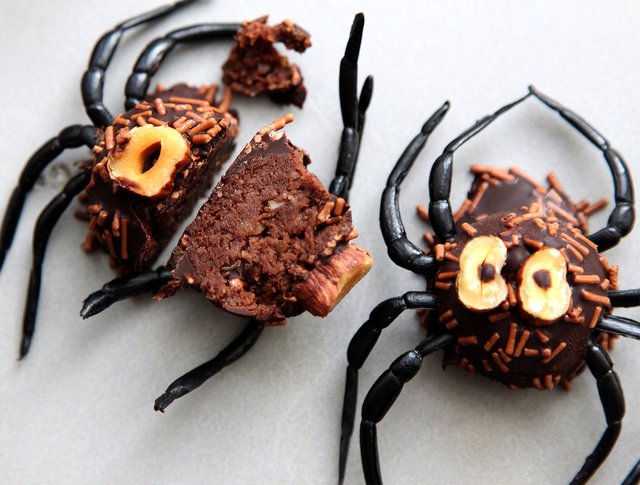 Spider Body Ingredients
Pea protein powder (or casein if you don't care about your spiders being vegan) 2 tbsp
Cocoa powder 1 tbsp
Toffee Stevia drops 1/2 tsp (or 1 tbsp agave syrup)
Crunchy almond butter 1 tbsp
Almond milk 2 tbsp
Ground almonds 1/4 cup
Dark chocolate sprinkles 2 tbsp
Almonds or hazelnuts 3
Plastic spider legs or licorice ropes 8
Melted dark chocolate 3 squares (30 g)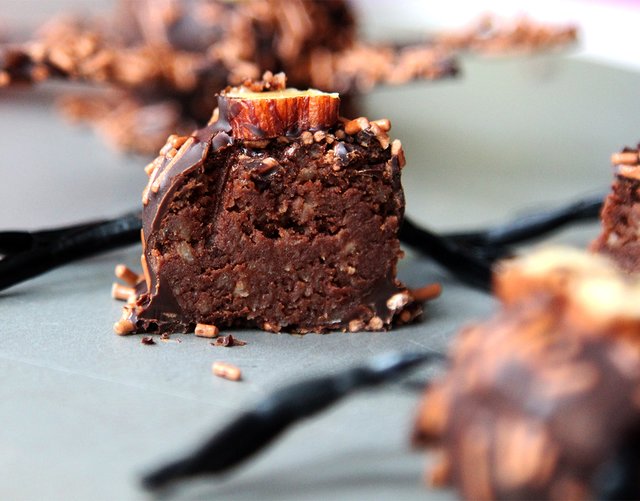 Directions
Combine the protein powder, cocoa powder, and ground almonds in a bowl.
Add the Stevia drops, almond butter, and almond milk, and stir until you get a soft chocolaty dough.
Roll the dough into eight balls. If your mix is too runny or sticky, add more of the cocoa powder and/or ground almonds. If it's too crumbly, add a tiny bit more milk.
Once your truffles are rolled, use a spoon to dip them into the melted chocolate. Sprinkle your chocolate sprinkles on top. To add eyes, carefully slice your almonds, and stick a couple of the slices on top of your chocolate-covered spider bodies.
Leave your truffles, or legless spiders, to set in the fridge for a couple of hours.
Cut the licorice to length, and dip each leg into the melted dark chocolate. Lay out on a plate lined with parchment paper and place the pan in the refrigerator.
Once all of the parts are chilled to firmness, pierce the bodies with the spider legs.
Nutrition Facts
Serving size: 1 spider (with plastic legs)
Recipe yields 8 servings
Calories: 79
Fat: 4 g
Carbs: 5 g
Protein: 4 g
[ad_2]