[ad_1]
You've earned your cheat meal—here's how to make sure it's still packed with muscle-building protein (and a serving of veggies).
You don't have to be Bugs Bunny to know that carrots are good for you—but what about cake? Usually not so much. Well, now you can have your carrots and eat your cake too with this incredible, protein-rich carrot cake-cookie recipe!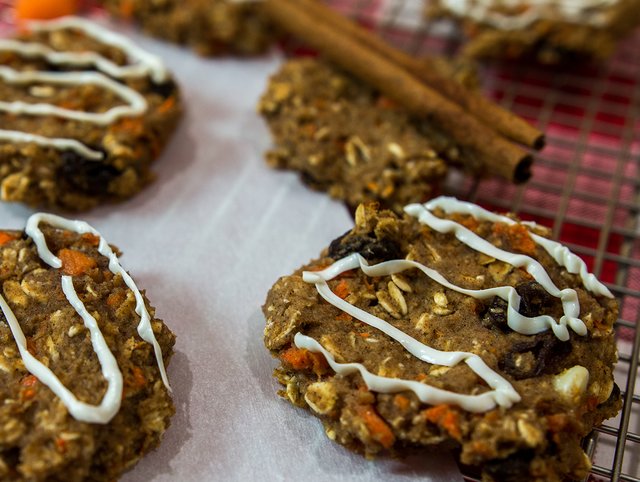 Ingredients
Cookies
Rolled oats 1 cup (80 g)
 2 scoops
Coconut flour 6 tbsp (45 g)
Ground cinnamon 2 tsp
Salt 1/8 tsp
 1-1/2 tbsp (21 g)
Egg whites 2 large
Vanilla extract 2 tsp
Sugar-free syrup 3 oz
Carrots 3 oz (85 g)
White chocolate chips and/or raisins (optional)
Cream Cheese Frosting
Fat-free cream cheese 2 tbsp (66 g)
Fat-free vanilla Greek yogurt 1/4 container
Vanilla extract 1/2 tsp
Directions
Take out two bowls (one for your dry ingredients and one for your wet ingredients) and put your carrots off to the side.
Add all of your dry ingredients into one bowl and lightly mix them together.
Add all of your wet ingredients into the other bowl, and mix them together until everything is incorporated. Mix the dry ingredients into your wet ingredients.
Chop up, grate, or process your carrots.
Chill your cookie dough in the fridge for 20-30 minutes.
Take out a baking sheet, and line it with either some parchment paper or a silicone baking mat. Shape your cookies and place them on your sheet
Bake them at 325 degrees F (162 C) for 10-13 minutes.
Nutrition Facts (Cookie with cream cheese frosting)
Serving size: 1 cookie with 1/6 frosting                    
Recipe yields: 6 servings
Calories: 206
Fat: 6 g
Carbs: 22 g
Protein: 16 g
[ad_2]