[ad_1]
There's no reason to restrict the many health benefits of coffee to your morning mug. Try one of these coffee-infused recipes today to kick up your meal!
For millions of sleep-deprived people, mornings would be a blur if not for the stimulating power of coffee. Athletes have long known that a cup of joe can help power up workouts, and research shows that coffee has some health-supporting potential, too. Research published in the journal Circulation reported that drinking 1-3 cups of coffee a day was associated with supporting cardiovascular health when compared to drinking no coffee.[1] Even more benefit may be associated with drinking 3-5 cups a day!
Even decaffeinated coffee has been shown to be ticker-friendly. Why? Coffee, which hails from the seed of a fruit, contains a smorgasbord of healthy plant compounds that have antioxidant powers. These nutrients may work together to help promote cardiovascular and overall health.
So, when something is so awesome, why would you want to pigeonhole it to a mere drink? Indeed, the intense flavor of coffee can be used to gussy up a range of recipes. These three coffee-infused bites prove it's time to get your grind on.
1. Coffee Fig Sauce
Say hello to the most awesome yogurt topping ever. Figs add natural sweetness, whereas the highly flavored coffee syrup is a total taste bud party. You can also use the sauce on cottage cheese, oatmeal, and ice cream. If preferred, dried plums can be used in replace of dried figs.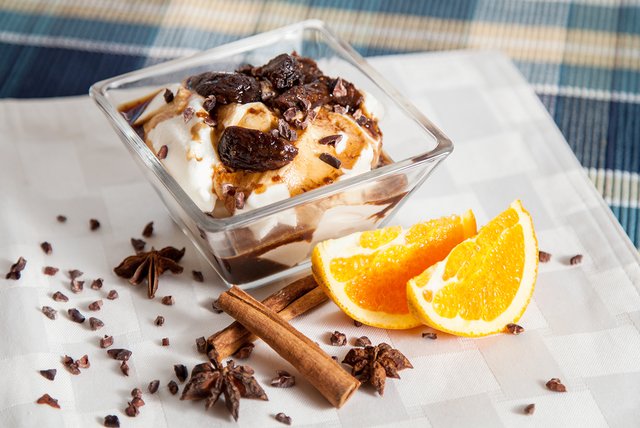 Better-body bonus: Parched figs are more than just carbohydrates. They also supply hunger-fighting fiber, providing 2 grams per fig!
Ingredients
Strongly brewed coffee: 1-1/4 cups
Dried figs (stems trimmed and quartered): 15
Honey (or pure maple syrup): 2 tbsp
Whole star anise: 1
Orange zest: 2 tsp
Cinnamon: 1/2 tsp
Vanilla extract: 1 tsp
Cacao nibs (optional): 3 tbsp
Directions
In a medium-sized saucepan, combine the coffee, figs, honey (or maple syrup), star anise, orange zest, and cinnamon. Bring to a boil, reduce heat to low, and simmer covered for 15 minutes.
With a slotted spoon, remove the figs and star anise from the pan. Reserve the figs, and discard the star anise.
Simmer the liquid, uncovered, over medium-high heat until reduced and syrupy, about 5-7 minutes.
Return the figs to the pan, and add the vanilla extract and cacao nibs (if using). Remove from heat and let cool.
Nutrition Facts
Serving Size: 1/4 of recipe
Recipe yields: 4 Servings
Calories: 116
Fat: 0 g
Carbs: 28 g (3 g fiber)
Protein: 1 g
2. Mocha Pancakes
Pancakes that are little more than a stack of white flour topped with faux maple syrup are a total buzzkill. Fortunately, these much healthier, java-infused flapjacks provide a surefire way to rev up your morning. And for harried mornings, the batter can be made the night before and chilled. Whole-wheat pastry flour or spelt flour can be substituted for oat flour.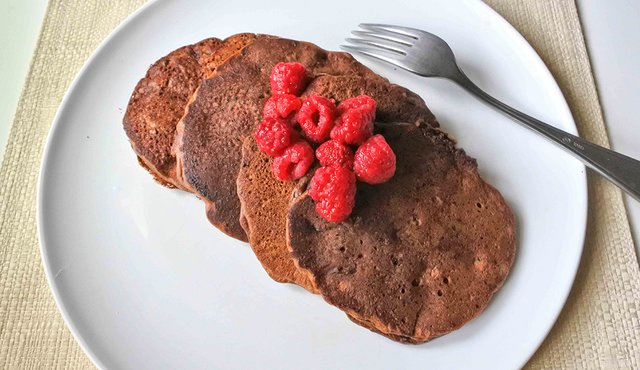 Better-body bonus: Made simply by grinding up oats into a fine powder, oat flour has a denser supply of fiber, vitamins, and minerals than your typical all-purpose flour. Sneaking in some protein powder and chopped nuts assures that these pancakes stick with you longer to avoid morning snack attacks.
Ingredients
Oat flour: 3/4 cup
: 1/4 cup
Cocoa powder: 2 tbsp
Cinnamon: 1 tsp
Baking powder: 1 tsp
Baking soda: 1/2 tsp
Large egg: 1
Strongly brewed coffee (cooled to room temperature): 3/4 cup
Vanilla extract (omit if using vanilla protein powder): 1 tsp
Banana, mashed: 1/2 medium
Hazelnuts or walnuts, chopped: 2 tbsp
Unsalted butter or : 2 tsp
Raspberries: 1 cup
Directions
In a large bowl, stir together the flour, protein powder, cocoa powder, cinnamon, baking powder, baking soda, and a pinch of salt.
In a separate bowl, whisk together the egg, coffee, and vanilla extract (if using). Stir in the mashed banana and nuts.
Add the wet ingredients to the dry ingredients, mix gently, and let the batter rest 15 minutes.
Melt butter or coconut oil in a skillet over medium heat. Pour 1/4 cup batter for each pancake into the pan, and cook for 2 minutes per side.
Serve the pancakes topped with raspberries, and drizzle them with pure maple syrup if desired.
Nutrition Facts
Serving Size: 1/2 recipe, about 4 pancakes
Recipe yields: 2 Servings
Calories: 425
Fat: 13 g
Carbs: 50 g (13 g fiber)
Protein: 28 g
3. Espresso Energy Balls
To wake up your workouts, try popping a couple espresso energy balls rather than your usual pre-workout. You can even use them as a go-to snack choice, replacing the nutritional landmines that populate most vending machines.
For higher-protein energy balls, try blending in a scoop of your favorite protein powder. Store balls in the refrigerator for up to 10 days.
Better-body bonus: According to research published in the New England Journal of Medicine, people who incorporate nuts into their daily diet may help support the health of their heart and respiratory system when compared to individuals who don't eat nuts daily.[2] It's likely a synergy of vitamins, minerals, fiber, antioxidants, and unsaturated fats that makes nuts beneficial.
And don't worry about an increase in weight gain with an increase in nut consumption. Researchers also observed that an increase in nut consumption was associated with less weight gain.
Ingredients
Espresso powder or very finely ground coffee: 1 tbsp
Almonds, pecans or walnuts: 1/2 cup
Rolled oats: 3/4 cups
Raisins: 1 cup
Dried unsweetened coconut: 1/3 cup
Almond butter: 2 tbsp
Cocoa powder: 3 tbsp
Chia seeds: 2 tbsp
Lemon zest: 2 tsp
Vanilla extract: 1 tsp
(flavor of choice; optional): 2 scoops
Directions
Place the espresso powder in a small bowl, add 2 tablespoons boiled water, and stir to dissolve. Let rest 10 minutes.
Place the nuts and oats in a food processor, and process them until pulverized. Add the dissolved coffee, raisins, coconut, almond butter, cocoa powder, chia seeds, lemon zest, vanilla, and a pinch of salt; blend until the mixture clumps together.
Form into 1-inch balls. You should get about 20 balls.
Nutrition Facts (Without Protein)
Serving Size: 2 balls
Recipe yields: 10 Servings
Calories: 247
Fat: 10 g
Carbs: 29 g (5 g fiber)
Protein: 10 g
Nutrition Facts (With Protein)
Serving Size: 2 balls
Recipe yields: 10 Servings
Calories: 212
Fat: 9 g
Carbs: 22 g (4 g fiber)
Protein: 10 g
References
Ding, M., Satija, A., Bhupathiraju, S. N., Hu, Y., Sun, Q., Han, J., … & Hu, F. B. (2015). Association of coffee consumption with total and cause-specific mortality in three large prospective cohorts. Circulation, CIRCULATIONAHA-115.
Bao, Y., Han, J., Hu, F. B., Giovannucci, E. L., Stampfer, M. J., Willett, W. C., & Fuchs, C. S. (2013). Association of nut consumption with total and cause-specific mortality. New England Journal of Medicine, 369(21), 2001-2011.
[ad_2]